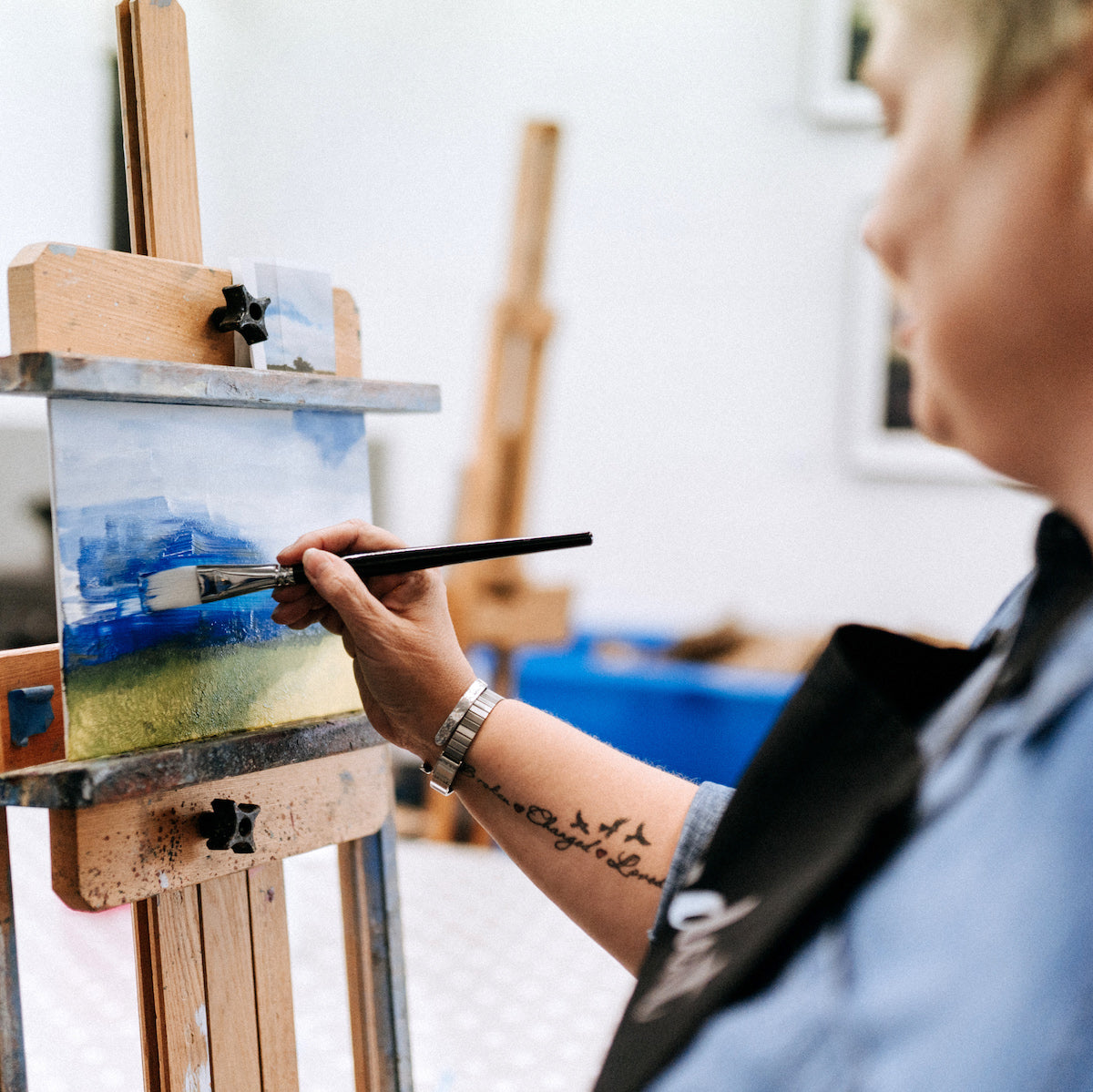 with artist Sarah Jane Brown
Workshops & Classes
Artist Sarah Jane Brown teaches adult painting classes from her spacious and well equipped studio in the heart of the Pembrokeshire Coast National Park. Materials and equipment are provided so all you need to do is turn up with a willingness to learn and have fun!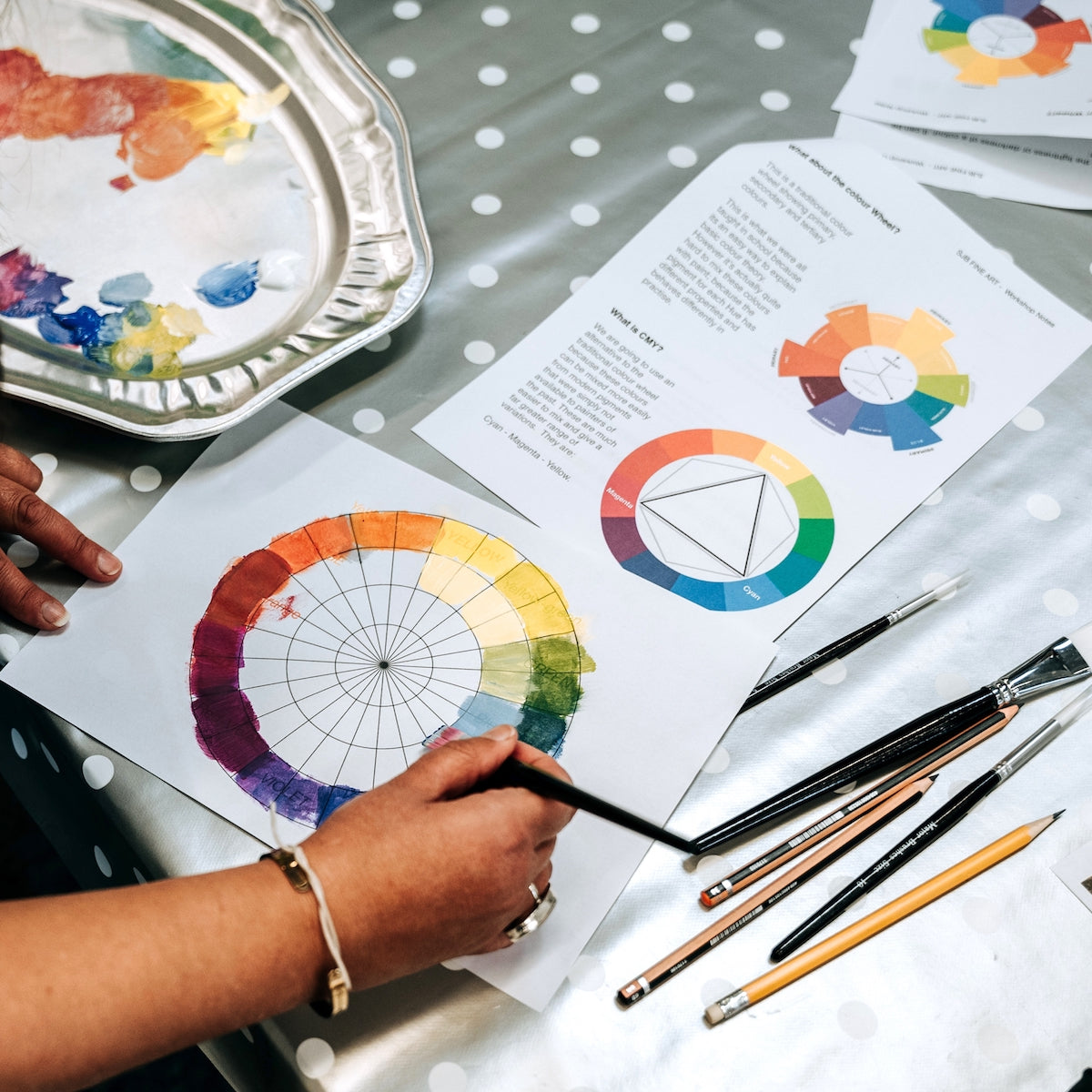 2024 WORKSHOPS NEWS
I run various workshops suitable for a range of abilities. These run throughout the warmer months.
Please check back soon for 2024 dates! or sign up to my studio news so you will be first to know!
What students have to say!
★★★★★

Sarah's workshop was outstanding from start to finish! I had a superb day and from being a complete novice to finishing a painting at the end of the day was an absolute joy! Sarah is one inspirational teacher. If you get the opportunity go!

Monica Haliday
★★★★★

Fabulous day. I learned so much - Sarah was full of brilliant tips and advice. I could not believe how much I learned in a one day. Sarah is a natural tutor, warm, engaging, immensely knowledgable and with a lovely manner that puts you at ease.

Alistair Halliday
★★★★★

Sarah is a patient and sympathetic teacher. She explains and demonstrates things fully and comprehensively.  This was such an enjoyable few days and I have left with so much knowledge and enthusiasm. Thank you.

Gill Jebson
★★★★★

Sarah is so knowledgable and this workshop gave me so much information and skill just from one day. Excellent value for money and a fun way to learn - especially if you are a fan of Sarah's work.

Francesca Grice
★★★★★

I thoroughly enjoyed the whole experience and I got so much from the workshop. The space and whole environment was awe inspiring. Sarah was such a patient and encouraging teacher; Thank you Sarah Jane.

Maddy Davy
★★★★★

My first art lesson has been very
informative yet relaxed and fun. I've really enjoyed mixing and playing with colours, Sarah is so talented and an excellent friendly teacher, I am looking forward to my next course with Sarah.

Jackie Jones
★★★★★

A wonderful workshop. I am a complete beginner and enjoyed every part of the day. I learnt a great deal and was really pleased with my painting at the end of the day.

Jan Croome
★★★★★

Learnt some new skills with painting as I always just sketched before - more than satisfied! Fun, relaxing and came away with different skills to try.

Selina Taylor
★★★★★

The space we worked in was open, and light, and well thought out. The pace of the instruction was well pitched, informative and informal. Really interesting to take apart how to build up layers on depth, thank you so much Sarah.

Imogen Mills
Course materials and equipment
We provide all the basic materials you are likely to need and these are included in the price of a course.
Please feel free to bring any unusual or special materials you might want to use or try out. All equipment, e.g. easels, palettes, paints, pencils, aprons, brushes and knives are provided although some people do like to bring their own brushes are they are used to working with them.
If you have your own personal sketchbook feel free to bring it to work in, otherwise clipboards and paper will be provided.
Refreshments and lunches
Complimentary refreshments are available throughout all classes and workshops.
All course days break for lunch - usually 30 to 45mins - and we provide a light lunch of soup or sandwiches or similar, which is included in the price.
If you have special dietary requirements please let us know in advance and we'll do our best to cater for you - or you are welcome to bring your own packed lunch into the studio if you prefer.
Indoors and outdoors
As we are located in the Pembrokeshire Coast National Park, some of our longer workshops may involve making some sketches or studies outdoors and then more time developing paintings in the studio. It depends largely on the weather, but also on the type and duration of the course.
Please bring suitable clothing for variable weather conditions and flat footwear for outdoor walking as well as for comfort when standing at the easels. It is advisable to wear several warm layers as the studio is on the cool side and doors are often left open for extra ventilation.