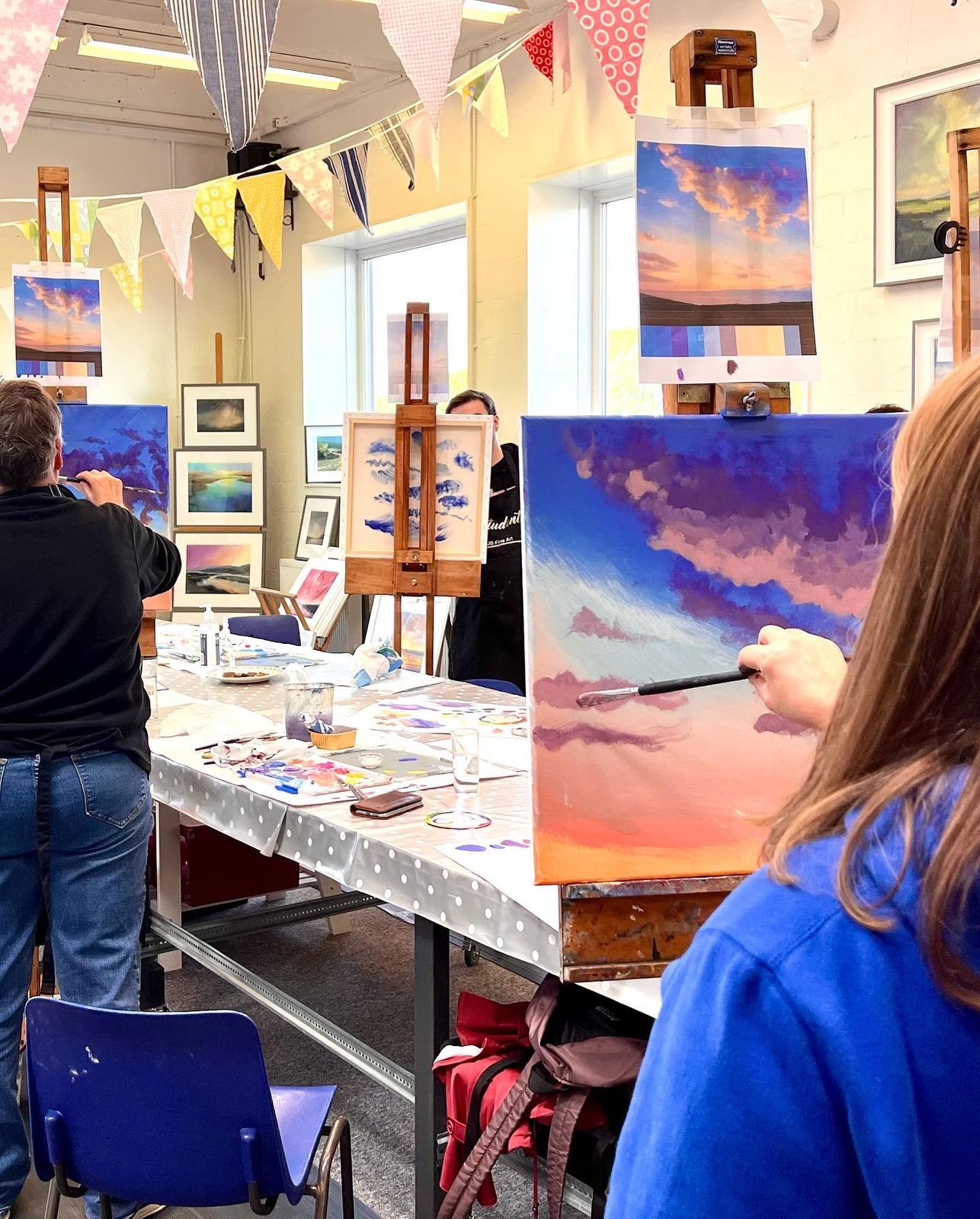 for SJB Fine Art Studio, Pembrokeshire
Workshop FAQs
Find the answers to some frequently asked questions about SJB Fine Art Studio workshops and booking information.
Group sizes are usually six to eight people, and no more than twelve. This ensures everyone has enough work space and that there is plenty of time for individual attention.
Painting tuition attracts people from all walks of life, from all over the world, with a common desire to be creative. We foster an atmosphere of kindness, respect, fun and friendship and we hope you will experience all of these elements whilst you are with us.
Most of our courses are designed for both the enthusiastic amateur and those with some experience. Whether you have had formal training or not, a willingness to learn and have fun is far more important than having specific skills. Some courses are more suitable than others if you are a complete beginner.
The studio is a very friendly and welcoming place for all levels of experience and you will all learn much more by working alongside each other. All our courses, unless otherwise stated, are suitable for all abilities. If a course is designed for more advanced students, we say this clearly on the website.
Many of the courses are modular in that they follow a certain theme, which means you can return and learn something different each time. Some are more suited to different levels of experience so please refer to the information for each course and if you are unsure please contact us before booking.
Yes. All good artists work through practice and by constantly expanding their knowledge, learning new skills, and exchanging ideas. Being in a new environment can also stimulate fresh thinking. Courses provide focused time to explore new approaches and meet other artists. We often learn more by working alongside others than we do in isolation because we can bounce ideas around and inspire one another. For these reasons there is an emphasis on experimentation, discussion and evaluation throughout each day. Some courses are more suited to advanced students than others, so please refer to the individual course description.
We provide all the basic materials you are likely to need and these are included in the price of the course. Please feel free to bring any unusual or special materials you might want to use or try out. All equipment, e.g. easels, aprons, brushes and knives are provided although some people do like to bring their own brushes as they are used to working with them. If you have your own personal sketchbook feel free to bring it to work in, otherwise clipboards and paper will be provided. Please be sure to read the separate course requirements, sent in the booking confirmation email, as they may vary.
As we are located in the heart of the Pembrokeshire Coast National Park, we try to take advantage of it. Our longer workshops involve making some sketches or studies on location and then more time developing paintings in the studio. How much time we spend outdoors depends largely on the weather, but also on the type and duration of the course. Please bring suitable clothing and footwear.
We will send you a list beforehand but here are the basics:
The studio is usually on the cool side too so please wear warm comfortable layers that you can add or subtract and that you don't mind getting paint on.
All materials and equipment are provided but if you have your own items you would particularly like to use, or a personal sketchbook, then feel free to bring them with you.
If you are attending a longer workshop please bring a pair of flat shoes suitable for walking in, especially as we may walk on the coast path or over rocks at the beach. A peaked hat or sun glasses and sunscreen are advisable if the weather is nice but a waterproof jacket is usually good to have handy. Also bring a warm hat, gloves etc in case it is cold. The wind here can be quite chilly even in summer.
It's a good idea to bring a backpack, or bag suitable for carrying materials in, if we're out on location. Make sure it's at least big enough to carry basic materials and A4 sized sketches. It would be useful to have your own digital camera or smartphone.
All course days break for lunch - usually 30 to 45 mins - and we provide a light lunch of soup, sandwiches or similar, which is included in the price. If you have special dietary requirements please let us know in advance and we'll do our best to cater for you. You are welcome to bring your own packed lunch into the studio if you prefer.
Most of our courses start at 10am and end at 5pm but may vary. Please check the details for each course which will be sent with your booking confirmation. Plan to arrive 10-15mins before the start time to allow for coffee and conversation. Sometimes you may be able to continue working in the studio at the end of the day, but this is optional and dependant on staff being in the building.
We have special tips and techniques for packing paintings to transport home, which we will assist you with. Please bring something to protect your car upholstery with, such as dust sheets, old blankets, plastic sheeting etc. For international students or those travelling by public transport we can assist you to arrange for a courier to transport your work. Please note, this will be at your cost. If you have a portfolio you can bring it to carry your work in, especially if you intend to travel by train or bus. A carrying tube is also good for rolled work on paper.
You are very welcome to come and see the studio, but please call us beforehand on 01437 457835 to arrange a time and date to visit.
Our address is:
SJB Fine Art Studio
1 St. Davids House
Brawdy Business Park
Haverfordwest
Pembrokeshire
SA62 6NP
There is a large free parking area on site, just below the studio, only 20m from the door. The area is generally very safe but please be advised that vehicles are left at the owners risk.
We are always happy to discuss the courses in more detail as well as your individual learning needs. Please call us on 01437 457835 for a chat and we can help you choose the course that would suit you best.
Please book online through the course page or by telephone on 01437 457835.
We do not currently have a facility to offer installment payments. Each course should be paid in full at the time of booking. That being said, if you need to make a different arrangement in order to attend then please do call us to discuss it.
We no longer accept cheques but payment by BACS can be made directly to our bank account. Please contact us about this. You can also use PayPal or ApplePay via the website.
Yes. Just enter the voucher code at checkout on the website. If you have any difficulty using your code please email us on admin@sjbfineart.com or give us a call.
Gift vouchers are valid for the time stated on the voucher only.
Please see our Terms & Conditions.
We will never cancel a course unless it is absolutely necessary, in which case we would refund you the full course fee. However we cannot refund you for lost travel or accommodation costs, so we strongly recommend that you take out holiday insurance. Please see our Terms & Conditions which refer to our cancellation and refunds policy in more detail.
Please see our Terms & Conditions.
Any student who has additional support needs should contact us before booking.
The entrance from the car park is via a concrete ramp with a small lip on the door sill for which we can provide a threshold ramp. There is also a side access with ramp. Both doors are bifold type so are suitable for those using walking aids and are wide enough for wheelchair access. However please note we do not have a disabled toilet and the pre-existing toilet facility is quite narrow. Whilst we may be able to arrange certain aids to assist, we can not guarantee that you will be able to access the toilet. Please call us on 01437 457835 before you book your course to discuss your specific needs, and ensure that they can be met.
There is no additional charge for carers/support workers assisting you on a course; however we do need to be advised at the time of booking that they will be coming. Please note that their attendance is free based on the understanding that they will not be directly participating in any of the activities of the course other than in an assistance capacity. They should bring their own lunch or pay a small fee to eat the same lunch we provide to students. Complimentary tea and coffee will be available to them throughout.
CONTACT US
If you have a question that isn't listed, please get in touch and we will do our best to help you with your query.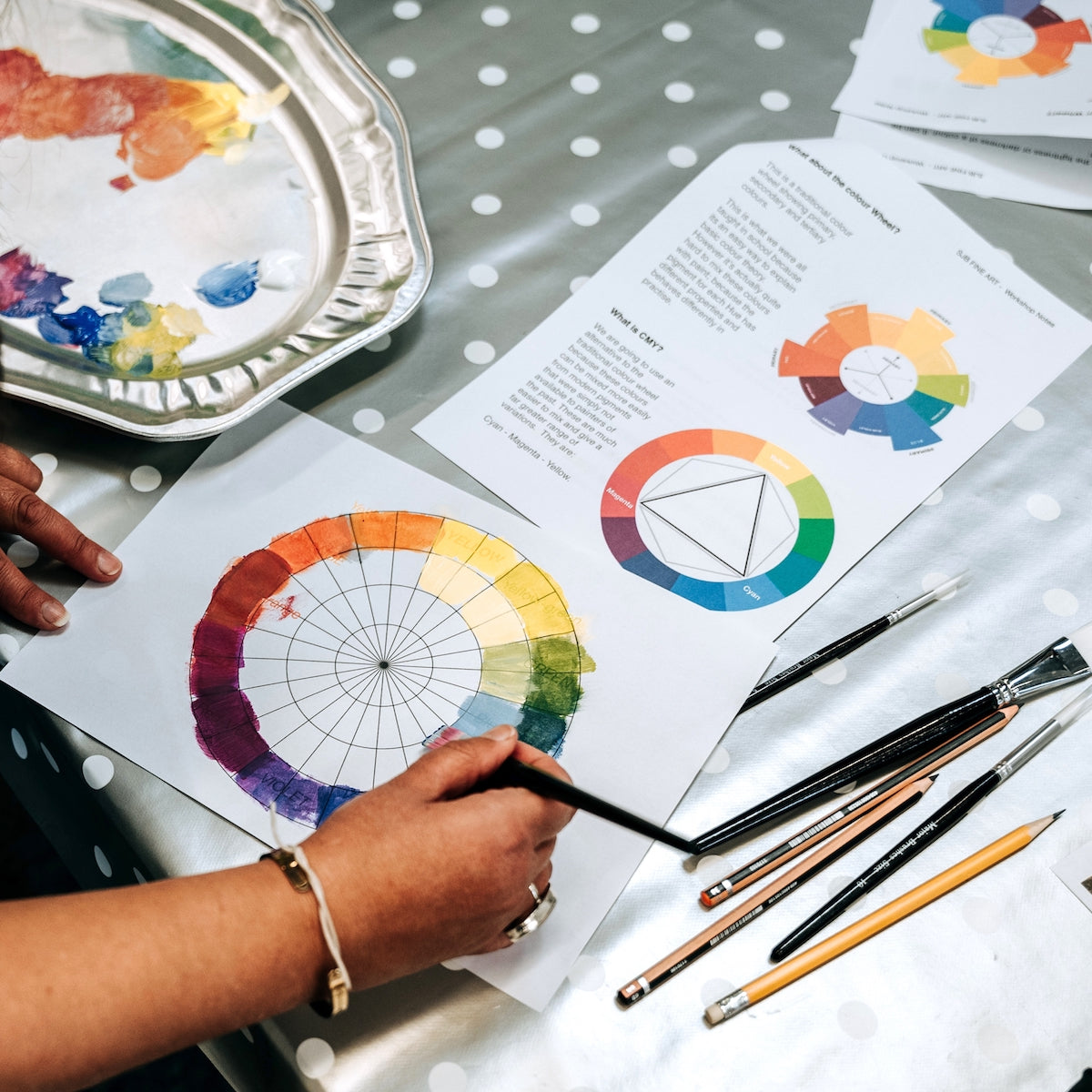 WORKSHOPS NEWSLETTER
Get all the news on classes
I run workshops suitable for all abilities whether you are a beginner or a practising artist. Sign up for news on classes, and I'll send you a free £10 voucher towards your first workshop.
GET FREE £10 VOUCHER